JetSuiteX makes flying easy (no lines or waiting at the airport), enjoyable (beautiful planes in pretty private hangars, complimentary healthy snacks, cocktails and more) and Fun (currently with in-flight yoga poses on cards in every seat back pocket, as demonstrated in video above – and a contest to win free flights and yoga packages!)
Co-founder Alex Wilcox was a founding executive of JetBlue and has been removing pain points from travel for decades. Going away is something people look forward to, the journey to get there should be an enjoyable part of the experience too.
Through at least mid-January, you can find the cards below on all JetSuiteX flights, where Playlist Yoga's CYO (chief yoga officer) Nicole Sciacca demonstrates moves that can be done in-flight to help unwind and relax.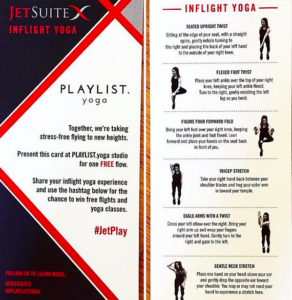 The cards are the customer's to keep and can be redeemed for a complimentary class at Playlist Yoga's Los Angeles studio.
Additionally, anyone anywhere (with an Instagram account) can enter to win weekly giveaways of yoga packages and flights (for as long as the promo continues). To enter to win, simply:
-Take a photo doing a yoga pose anywhere other than a yoga studio.
-Post the photo on Instagram
-Follow @JetSuiteX and @PlaylistYoga
-Tag @JetSuiteX @PlaylistYoga #JetPlay
We'll select 2 winners each Sunday through at least mid-January who will receive a 3-pack of Playlist Yoga classes & a RT trip voucher to fly on JetSuiteX.
Some inspiration from a recent trip to Bali, doing a pose I call 'Family Tree' with my sister 🙂