If you've been following me for any length of time, you know that I'm a big admirer of Richard Branson, and credit the serendipitous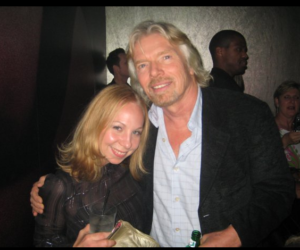 meeting and conversation with him on Virgin America's first flight NYC-LA with changing the course of my life. Since that day more than a dozen years ago I've had several more opportunities to talk to and learn from Sir Branson and have voraciously consumed all of his books.
He reminded me to generally 'Screw It, Just Do It, hire people with passion over people with degrees and that you don't have to apologize for thinking your job is fun. He showed me the impossible can be made possible – and if it can't, you won't know unless you try, to give anything that excites you a shot and admit defeat, pack it up and move on to the next thing if it's not working (how many Virgin brands have you seen come and go?!) and he added dimension to my love of travel. He, and the experience of working with Virgin America (and Australia) for the better part of a decade, made me fall in love with sharing amazing air travel experiences and the art and business of growing an airline you truly want everyone to experience.
It's been nearly two years since Virgin America was sold and folded into Alaska Airlines. But, in the midst of my mourning I had the good fortune to be brought on to work with and help grow JetSuiteX, a semi-private air carrier that was still in it's infancy. It's now 15 months later and I count my lucky stars for the opportunity to work on the amazing product that is JetSuiteX  and learn from Alex Wilcox, another great mind in aviation and entrepreneurship. He may not be a household name (yet), and maybe he prefers it that way, but people should know his story and his mission – because if you don't already, you will (and should) soon know his companies JetSuite & JetSuiteX.
In that vein (and to learn more myself), I recently interviewed him for Nobleman Magazine and walked away even more inspired.
You can read it here, or below…
Making the Skies Friendly Again
Our conversation with Alex Wilcox, the man creating a new model for air travel.
I had the opportunity to sit down with JetSuite and JetSuiteX founder, Alex Wilcox for this NOBLEMAN magazine exclusive interview. Fitting I'm writing about it from 30,000ft on a JetBlue flight. His fingerprints are still all over this airline. Prior to starting private charter JetSuite ten years ago and its semi-private companion JetSuiteX two years ago, Wilcox, whose aviation history includes interning in the PR department at Southwest Airlines and quickly working his way up from the customer service department at Virgin, was a founding executive of JetBlue, and the man responsible for bringing live TV to the in-flight experience.
At the same time as issue six of NOBLEMAN magazine comes out, JetSuiteX, the first jet company of its kind on the West Coast making a private travel experience accessible to everyone, will be celebrating launching Orange County as their latest travel route (joining Burbank, San Jose, Oakland, Las Vegas, Reno and Mammoth) and moving their main office from Irvine, CA to Dallas, TX.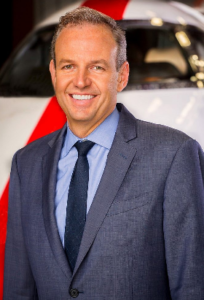 In our chat I got to learn what Wilcox has planned for the present and future of JetSuite and JetSuiteX, why he does it and why once you try it, your only complaint will be that they don't fly to every place you travel…yet.
First, how did you get interested in aviation?
My mom is from Switzerland and my dad is from New York, so I spent a lot of time as a child crossing the Atlantic and I really loved it. I always wanted to be in the industry. I always felt the safest and happiest in an airplane, but knew I didn't want to be a professional pilot So, I've wanted to do it as long as I can remember.
What's been one of the more drastic changes in the airline industry from when you started until now?
It's a much bigger industry now. It's been popularize now, obviously. I think in 1970 less than a third of the US population had ever been on an airplane and now I think most Americans have been on an airplane.
How has the experience of traveling on a plane changed?
It's become a generally crappier experience. Flying used to be part of the travel experience and you'd enjoy the ride. Now it's become something to be endured.
It seems part of JetSuiteX's mission is to change that.
JetSuiteX is bringing fancy back. We're making it fun and convenient but at a great price point.We realized people fly now because they want to save time, not because they want to sit in airplanes.
When you launched JetSuiteX April 2016, what was your vision for it?
My vision was to recapture a market that's been abandoned in this country. Since the year 2000 the total of the aviation market is up by a third, but markets under 500 miles are down by a third, so there are literally millions and millions of fewer passengers in markets where the trip is under 500 miles than there were in 2000. If we just recapture that market we'll have to have 1000 airplanes.
So, do you have 1000 planes on order?
My five-year vision is to get to be 100-airplane business doing a billion dollars a year in sales and flying hundreds of thousands of people.
Who is the JetSuiteX customer?
Anyone who values their time.
Who is the JetSuite customer?
Anyone who values their time and their money.
What's been the career accomplishment you've been most proud of so far?
Attracting and organizing a team of unbelievably dedicated, smart, passionate people who can take an idea, put it into practice and bring it to life.
What's been the biggest challenge?
Continuing to find great people and managing growth. It's been a proto-type business so far with just five airplanes and we bought more airplanes this week on our way to 100, and 100 airplane business is very different than a five airplane business. So, we have to transition now from mom and pop to a bigger production and scale and we need people who can do that. That's the dilemma, people who are really good at start-ups aren't necessarily good at scale and vice versa. Transitioning from one thing to the other is one of the hardest things to do.
You launched JetSuite 10 years ago and have operated more hours on the Phenom 100 than any company in the world. How many planes did you launch that with? And how many do you have now?
One. [Now] We have 20. If you include the JetSuiteX fleet, 27.
What's the growth plan for JetSuite?
We are going to expand the business and acquire more airplanes. We'll have a big announcement the second half of this year, but in the meantime we're going to double down on our focus of providing the most reliable, safest, service.
How many different kinds of planes do you have on the JetSuite side?
We have 3 models, all Embraer. The Embraer Phenom 100, which is a 4 passenger plane that's like flying town car. We have the Embraer 300 which is a 7-passenger jet which is super high performance, great in and out of the mountains, and then the Legacy 650 which is a long-range airplane capable of going coast to coast, Hawaii, Mexico, The Caribbean, Vancouver, places in Canada.
Do you plan to always stick with Embraers?
It's breaking news, but we're actually going to be the launch customer for the Zunam Aero airplanes, which we'll get in the mid 2020s and we're hyper excited about it. They will be for 9-50 passengers, great for customers conscious of their carbon footprint and another way JetSuite is looking forward and continuing to innovate.
JetSuite flies to Canada, Mexico and the Caribbean, but will you ever do longer international flights?
Wait and see.
Do many JetSuite customers fly JetSuiteX?
Yes. JetSuiteX is exclusively for everybody. And vice versa, a number of JetSuiteX people fly JetSuite too.
And with SuiteDeals you can charter a whole private plane for less than some full-fare commercial tickets. What's that about?
SuiteDeals are last minute daily flight deals that give you the chance to fly privately starting at only $536 each way, for the whole jet. If we fly out to a city, we rather give people a chance to experience it flying back really inexpensively than fly the plane back empty. You can sign up on JetSuite.com to get notified on daily SuiteDeals.
Why did you choose Orange County to house JetSuite's main headquarters when you launched a decade ago?
It's where I lived. And I live here because I love the weather, I love the poeple and I love the ability to do so many things in a day. And the West Coast is the right place to launch a new type of business because people here are willing to try something new. A lot of new adopters live here compared to anywhere else and a lot of innovation comes from California, so it was the right place to try it.
Why did you wait to launch the OC as a route when the office was based there?
You'll have to ask the Orange County Board of Supervisors.
What are some of your favorite places in Orange County? Besides Javiers?
I like being on the water, taking the kids out on the sailboat on the harbor, stand up paddle boarding and I love Laguna and the restaurants and the beach town there, Dana Point. I love VACA, and A restaurant, just A like the letter. It's amazing. It's the best. I live half a block away from there and I walk there. I love biking and swimming at the beach with my kids, I love being able to get to work without getting on a freeway…But what I'm not going to miss is the taxes and six hour flights to New York.
Any East coast plans you can share?
There are East Coast plans, but I can't share them. The East Coast is in our future.
Will there ever be LA to NYC flights?
It's not in the current plans, but never say never. You're talking to me, anything is possible.
What's your favorite quote?
Henry Ford, "If you think you can, if you think you can't, you're right."
You've quoted Richard Branson that the quickest way to become a millionaire is to be a billionaire and then launch an airline. If not for the money, why do you do it?
I do it because I think it needs to be done and I really enjoy it. It's not every day that you get to do something super cool that's also super useful to a great number of people.